2013 has probably been one of the driest years in a long time for VHS hauls. Relying on internet forums and the usual auction sites such as ebay and Amazon is not the way I like to secure tapes, but after a miserable car boot season, and very few leads to call my own, I have had little choice other than to revert to such avenues for my video pleasures.
This was until I found a guy online who was selling hundreds of rare pre-cert VHS tapes (his own personal collection). Unlike car boot discoveries, he was looking for a lot of money for them, and rightly so, as i'd seen some photos and there were treats aplenty.
I cheekily got in touch and offered him a set amount, which was way below his asking price, but acceptable if he wasn't able to sell them and wanted to shift the entire lot as soon as possible. Luckily, he accepted my offer.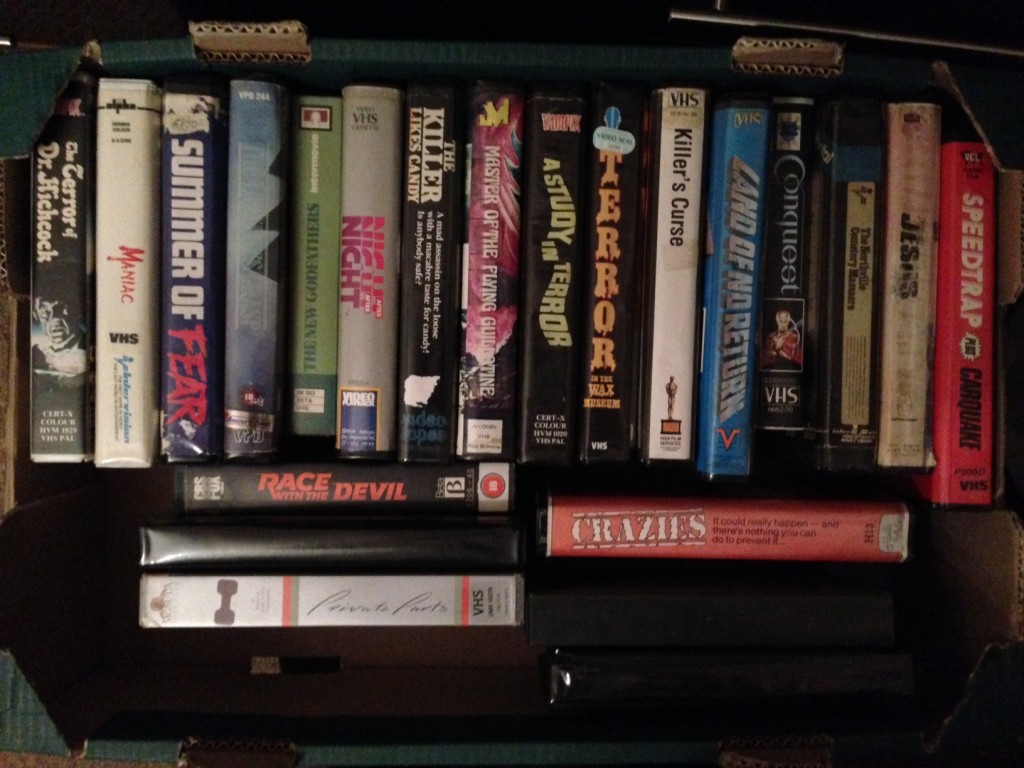 It was a 200 mile round trip in all, made even longer by closures on the M5 delaying our arrival by almost two hours. I also managed to drag the wife along for company.
When we arrived, the guy and his wife could not have been nicer, which makes these hauls all the more worthwhile as I like to get a bit of history as to where parts of my video library have come from.
This was a very personal collection, and one that has been compiled over a 30 year span from various trade fairs, rental stores and even other countries.
In total I collected roughly 160 tapes, including a few Betas and some doubles. It's nice to be able to think that there are still tape hauls out there like this, it's just a shame that they are few and far between. Also, look closely at both The Comeback and Frightmare, and you'll notice they're signed by Pete Walker.

The only sour note – and from a jealous point of view – came when the guy showed me a further hundred tapes which had been kept to one side for another buyer. I couldn't just glance at the shelves, and instead took a few mental pictures of the rows. Thankfully for my own health, there were only a handful that I would have liked, but even they were hard to walk away from.