Yesterday afternoon, while at work, I received a link to a blog from a friend. The link can be found here, but it basically documents a local video store that is entering its final weeks of operation.
With no fresh leads in a while, and a constant desire to preserve the history of the British video store, I decided to get in touch to see if a visit was possible.
Unfortunately the only number I had rang out all afternoon and I feared an early closure had taken place. In a moment of frustration, and some quick thinking on my wife's part, I did a quick Google search to see the exact location and noticed that two other small businesses were nearby – one being a hairdressers, the other an opticians. I dialled the hairdressers first but got no reply, so then contacted the opticians where a lovely woman answered. I asked if she knew whether or not the video store down the road was closed and she said yes, it had recently gone out of business. I was devastated but not deterred. I then informed the woman that a friend (my only lie) had been in only this Sunday gone and it was still open. So she placed the phone down, walked up the street and checked for me (I could hear her footsteps on the other end of the phone). She then came back and said that she was mistaken, and that the shutters are up and it is indeed open for business. I rang the store twice more but again got no reply. I then very cheekily rang the woman back and asked if she would pass my number on to the store owner and get him to call me, to which she agreed. My phone rang 30 minutes or so later. Vision Express! (It wasn't, it was a local independent branch)
I spoke briefly with the owner about old stock and he commented that it would be easier to come down and take a look for myself. Considering the amount of years since DVD took over, I wasn't expecting to find much but the chance to take a look around, and possibly pick up some old store signs, shelving etc was too good to turn down.
So after work, my wife and I drove to the store to meet with the owner. The store was filled with DVDs and Blu-rays, as one might expect, but we got talking and he mentioned that some tapes had been kept in the back. He pointed to a rack of DVDs on the far wall and pushed it back, it was a secret doorway to a large storage area which was wall to wall VHS. Sadly the stock was mostly Asian material and smaller sell through releases but I did manage to find a few later 80s ex-rental releases among the shelves.
I was told that I was a year too late, as just last year he had threw out hundreds of old tapes.
This visit turned out to be more than just a routine tape hunt though as the owner gave me my petrols worth in information alone. A store owner since 1979, who traded throughout the 'video nasties' era, had close dealings with the usual distributors like Medusa, Warner Brothers and alike, and genuinely took great pleasure in his job. He joked that Medusa – my personal favourite label – had brought him a lot of money in the '80s.
The store started out as an electronics outlet, and then by the early '80s he began to stock a small selection of tapes in a corner of the store. That corner became a wall and the wall became two walls, before finally taking over the whole place and becoming the video store it is today.
He found out lots of old store items like certification stickers, rental sleeves, membership cards, rental tabs and badges, and packed them into a box for me to take away. The best gift of all was the store's own letterboard, as well as a few boxes of spare letters to adjust as I see fit. There was even a brief period where I got to live out my dream of working in a video store.
Premiere Video has less than six weeks left before shutting its doors for the last time. But don't feel too bad, because retirement was always in the owners plans for 2013 anyway, and he seemed like the six weeks could not pass quickly enough. He promises to contact me the day it closes and let me know if he has found any other items that I could put to good use. Other than the plastic DVD wall trays, everything else in the store was handcrafted.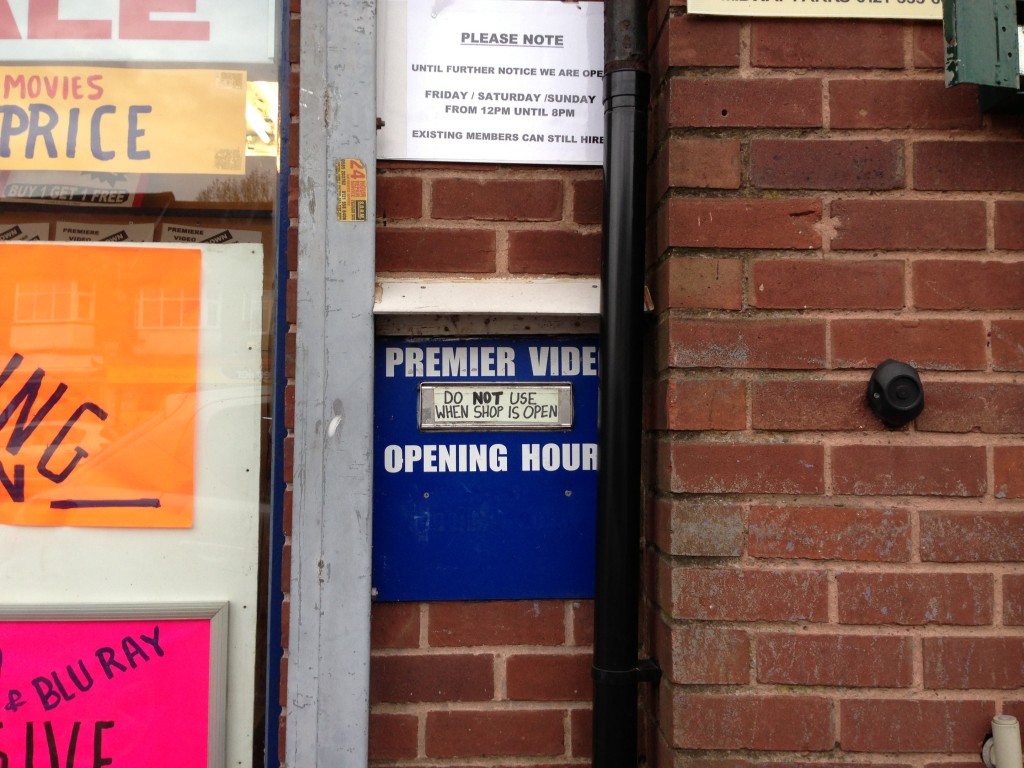 As I don't venture in this neck of the woods very often, I probably would never have known about Premiere's existence had not been for a Tweet from good friend, Jon Hickman (@jonhickman) today. I would also like to add that that Tweet would not have been possible without Jon Bounds' mini blog post yesterday.