Car Boot sales in England are a magical thing. There are days where you can walk around them and find nothing, but there are those special occasions when you strike gold. While there I occasionally speak with a few of the sellers, and upon hearing about my obsession with VHS, you'd be surprised by the amount of people who tell me they took their entire collection to the nearest landfill, believing them to be worthless. I've had to stop asking about certain titles they used to own, knowing their rarity and how limited they were in release. I get abdominal pains just thinking about their destruction.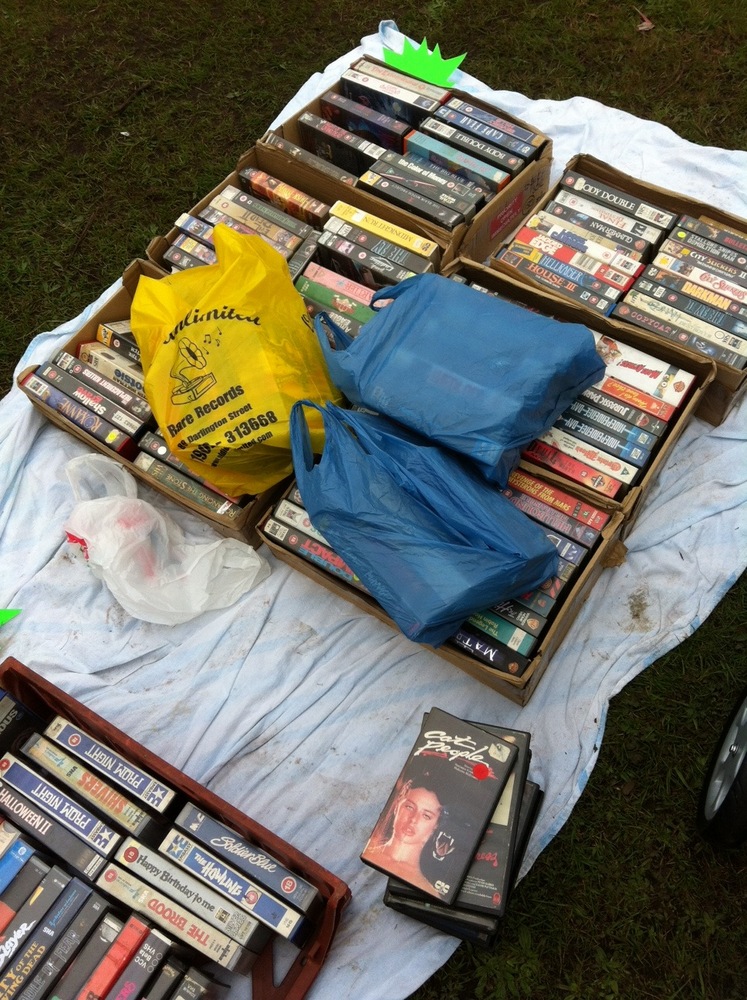 After getting lucky once already this year with my '52 Pick-Up' haul, I was optimistic going into my first car boot sale of the year. That optimism appeared to pay off when I spotted a whole load of tapes in the distance (you just begin to develop a second sight for them after a while). I didn't panic though, if my previous efforts have taught me anything, it's to expect the worst, that way you'll never be disappointed.
I casually strolled up to the stall as if simply browsing more junk, like so many others before it, looked down at the crates and to my amazement spotted some incredibly rare tapes, such as: Cannibal Apocalypse, Terror Eyes, Tenebrae and Frozen Scream. Most of these are 'Video Nasties' and still highly sought after. Immediately I was thinking of a sum that I could offer the guy to get them in a bulk deal, but then I noticed something else, something that all collectors dread, the 'Videos Individually Priced (VIP)' sign *cue suspense music*.
This isn't some sweet old dear that I can exploit for my own personal gain. This is a fellow collector that has called time and decided to part with his once treasure gems, and for market value prices too. I was hoping they would all be priced at 10p each, instead they ranged from £10-15 a tape. Even at those prices, most would be a bargain for any up-and-coming collector. Luckily for me, I already own the vast majority of them and so was only prepared to purchase a few of the rarer ones. The hope was to pick up some duplicates and sell them for high prices, in an effort to fund future hauls.
Due to being so overwhelmed by the sight of the first few crates, I almost failed to spot the four to the right hand side of the stall. These were more generously priced, with tapes starting from as little as 30p (or 4 for £1) to £1 each. There were some great films in there too, so I rummaged through and bagged as many as I could. For that price I wasn't being too picky. In total I purchased 36 tapes from the guy and spent just over £25. That isn't too bad really, not when you consider that Pranks (aka The Dorm That Dripped Blood) is worth almost twice that on its own.
Despite the sticker prices placed on those tapes, it's still quite a rare thing to see such titles on boot fairs these days, with so many people believing the more mainstream labels such as Cinema Club and 4Front will sell better. Take it from me sellers, this is NOT the case. If I had a pound for every Friends tape I spotted on a car boot, i'd be a very rich man.