The VivaVHS vs. The Good Bad Movie Club VHS All-nighter – The Prince Charles Cinema, London.
My good friend Paul, who is the programmer for The PCC, and also runs The Good Bad Movie Club, asked me to join him in an epic battle of the grain. Three selections of his, versus three of mine, head-to-head in a night long duel of sleaze and cheese. The only thing I wanted to nail down, was to make sure that all selections were not available on DVD or Blu, thus hopefully creating more appeal for the event.
I began by drafting up a large list of movies that I personally love, and ones I knew were VHS only (not counting Laserdisc). I then started to think about what would play best with a crowd. I had a feeling Paul would have some comedy in his three, so I didn't have to worry too much about including any in mine as a rule.
In the end, I had six films that I had a hard time separating, and if you were to ask The PCC, I changed my three about five times before they were finally submitted. Aside from the final choices, my other three working titles were Young Warriors, The Naked Cage and 3:15. Even now i'm wondering if I made the right decision.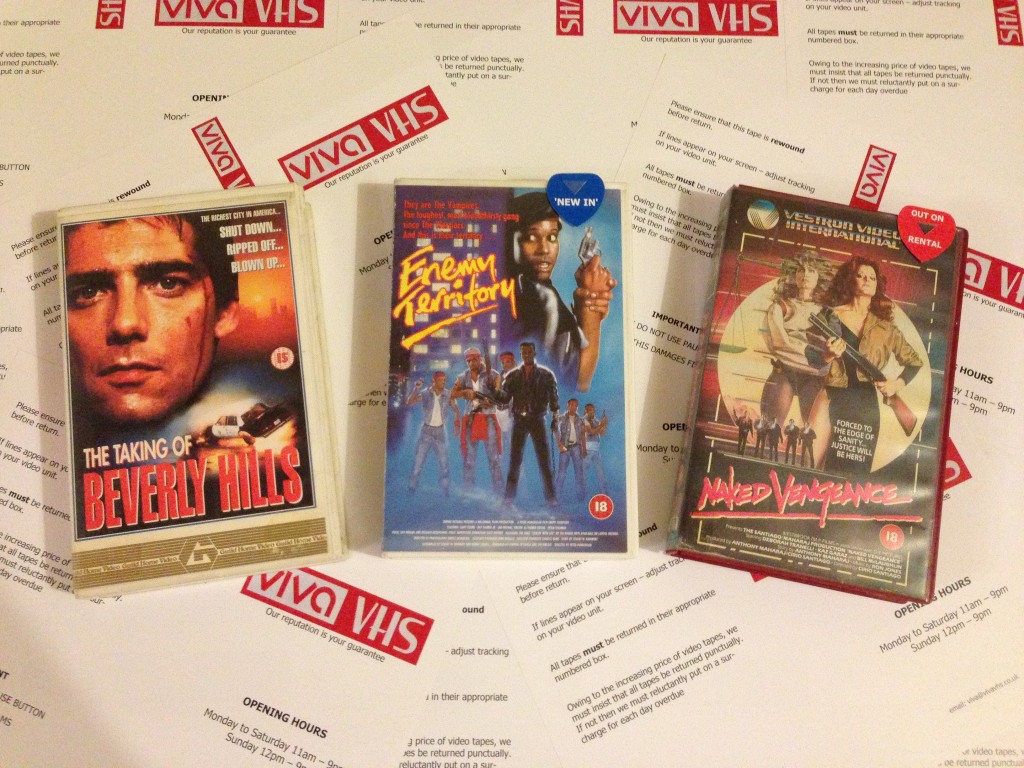 Eventually I 'settled' on The Taking of Beverly Hills, Enemy Territory and Naked Vengenace. Three films I absolutely adore. Now, Naked Vengeance (Vestron) was cut by 23 minutes over here, so I had a very good friend ship the fully uncut US (Lightning Video) tape over and played that one instead. I can't even begin to imagine what is cut from the UK tape, as that seems a little extreme.
The three choices from The Good Bad Movie Club were The Cellar Dweller, Double Trouble and He's My Girl. The latter two of which I had never seen.
The night went fantastically well, and it was great to meet up with so many friends from Twitter. My favourite part of the night was the guy sat one row in front, who appeared to be making a note of every trailer from each tape shown. Hardcore.
It was also the first time I have gone through an all-nighter without a power nap in between. Usually the fourth or fifth film is the killer, but good preparation and lots of coffee meant I was able to sit back, relax and enjoy the event. Lots of sleepyheads around me though, that's all i'm saying.
In the end, i'd like to think this battle ended in a draw. From talking to many folks afterwards, the two triumphs of the night appeared to be Enemy Territory and Double Trouble. I have to say, I was rather surprised at just how ridiculously amusing Double Trouble was.
Upon reflection, if I were to ever do this sort of event again, my choices would be completely different in tone. As stand-alone screenings, I think any of my three choices would work great in their own right, but as part of an all-nighter, they seemed a little heavy. Just my personal opinion.

I also created a few homemade VivaVHS tapes that I randomly planted on chairs throughout the night. A little memento to say thank you. Each tape having a different movie on it.
Like always, i'd like to say a huge thank you to the many people that came out, and not only parted with their hard earned cash, but actually made it through to the very death of the event. We only had one or two casualties who bowed out after the third film. I reserve the biggest thanks, of course, to The Prince Charles Cinema for having me. Actually, to Paul, who makes it all happen.