Video Palace – March 26th to 29th. A joint creation between DVD Bang, Scalarama and Viva VHS. Funded by the BFI.

After taking part in Flatpack Festival last year with a double-bill of Anguish and Popcorn for a movie-within-a-movie event, I was incredibly fortunate enough to be asked again for this year's festival. Michael at Scalarama had the idea of joining forces with London-based Asian disc worshippers DVD Bang to bring the city of Birmingham its very first pop-up rental store – Video Palace.
I visited the space with Michael, the guys from Flatpack and Helen from DVD Bang in the middle of February and knew instantly that the place was perfect for such a 'store'. With little work needing to be done, screening rooms already built and partition walls in place, it really was just going to be a case of moving in.

I rang my childhood-friend Damien and mentioned that we had the chance to grab our dreams of finally working in a video store, and he took only seconds to reply.
With my new job, time is not something I am blessed with of late, so organising all the little touches – rental sleeves, membership cards, 'on loan' tabs, shirts, signs etc – that make a store feel more genuine was quite tough, but it's not exactly in my character to skip over such details.
Sadly, I was only able to set up in the week leading up to the grand opening and had to work on both the Thursday and Friday (first two nights of operation). My childhood fantasy was lived out, however, as I got to run the store on Saturday and Sunday.
Video Palace was created as a pop-up VHS and DVD rental store/café, with customers able to view material on the premises.
On the left as you entered the door was 1/4 of my VHS collection (roughly 1,000+ tapes), all neatly displayed. In front of them were two large tables filled with tapes for sale, merely good doubles that I had accumulated from the last few years' job lots. I took 110 with me and came back with 65 so they definitely went down a storm.
There was a large café area in the centre of the room, with drinks and snacks (in keeping with the Asian DVD Bang theme) available from the bar/desk. We're talking noodles, Soju, Aloe Vera drinks, Pepero sticks and Gunpowder Whisky here.
Beyond the VHS selection was the DVD Bang itself, a large rack containing all sorts of wonderful and mysterious titles. With slots being filled throughout the day, customers who booked came in, selected a title from the rack and took it into the Bang's screening room which was in the centre of the entire space, and the only room where no headphones were utilised, so all that could be heard for most of the days in the Palace were loud screams, foreign shouting, blood splattering and bizarre music. I popped my head around at one point during a screening of 964 Pinocchio and saw what can only be described as excessive tongue waggling.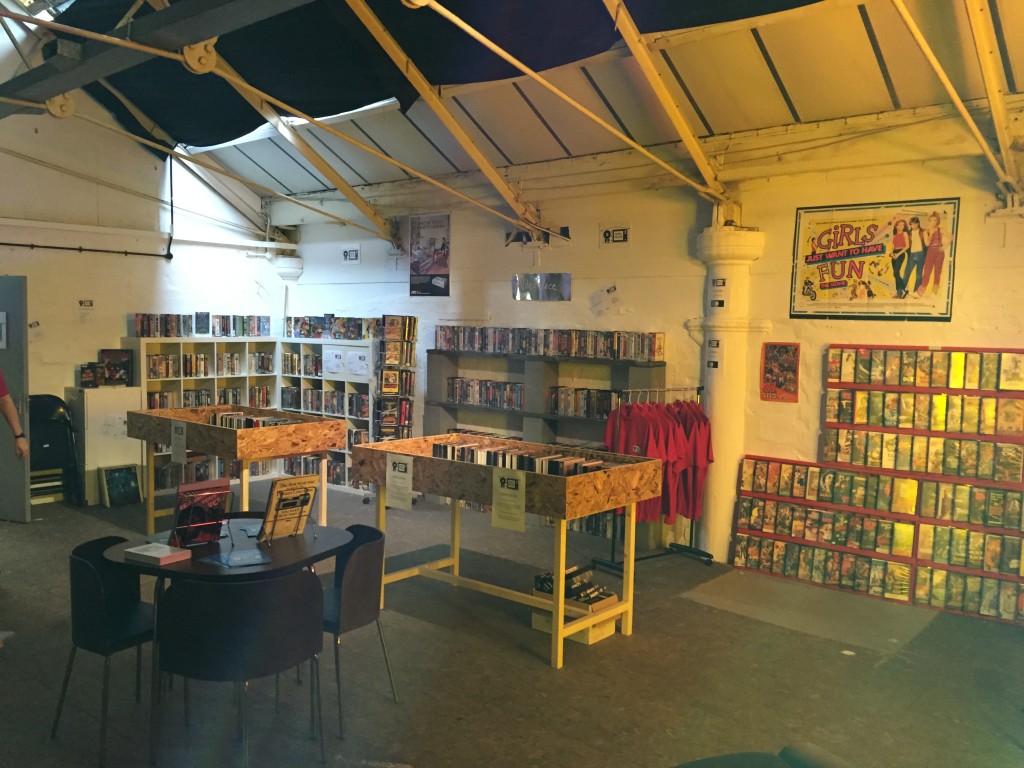 Thanks to Alex of Duke Mitchell for the video.
Damien set up his camera near the Bang and was filming video store memories from those willing to share, which once edited will be a mesmerising case study for Scalarama to present.
Inside the VHS section, and in addition to the two projector screening rooms at my disposal, I had also laid out two private booths with headphones for people who just wanted to watch a film in private rather than on a big screen. We had the Powers Boothe on the left and Frank Booth on the right, a gag which three people got when taking them over.

As people who know me can testify to, I was completely in my element manning the till, talking to everyone who came in about the space, VHS covers they remembered from their youth and films in general. The highlights, of course, when people came up to me asking if I could recommend anything. And the small comfort of placing tapes back on the shelves, naturally.
We even had quite a few people who signed up to become members, providing me with the necessary recent utility bill and photo identification.
We as a team started the first day off with a screening of Hardbodies, which was met with cheers, then it all got quite random after that. Troll 2 was played and abandoned after 10 minutes from one couple, For Your Height Only made an appearance, I put on The Courier of Death for my parents, The Monster Squad for my wife and daughter, set a group of kids up with Teen Witch and Off-Beat and even captivated a room with Deadly Prey's finale.
I sat a few people down with The Refrigerator and then after half an hour turned around to see about 8 people tuning in with headphones. Madness.
A group of lads took away Tim Everitt's Furious, a film I like to throw on most people. Another couple had a screening of Enemy Territory, some with The Stuff. I even laid on a special showing of Café Flesh for a guy I got chatting to. It was simply magical.
Biggest highlight for me was seeing an elderly couple watch Breakdance in its entirety. I even uttered the words; "my work here is done."

I also remember the moment I fell in love with the DVD Bang crew, as on my first morning in the store they mentioned that they had screened The Sisterhood in private the night before when everyone was gone, and the girls – Helen, Claire and Amy – all cried.
One thing that was mentioned over the course of my two days there was how many movies containing the power of dance I actually owned. I think an entire section could have been built, and I was caught out on a few occasions setting customers up with the likes of Body Rock, Heavenly Bodies and Girls Just Want to Have Fun.
On the Sunday night, we decided as Video Palace to enter the Flatpack film quiz, a quiz which was sold out with over 12 teams entering. Our team name was Quiz Akabusi and we placed a very commendable second, picking up free beer and shirts. We lost out by 5 points to a team that had won it the last 3 years in a row, so that made us all feel even better.
After the quiz, every Flatpack event organiser came up to the Palace to celebrate an incredible festival, barging in on security who were watching Black Belt Jones 2 and Taxi, not watching the doors.
We left them to it and began a night of Karaoke, which featured some amazing performances. Myself and Damien gave a beautiful rendition of This Charming Man and Alanis Morissette's Ironic. Best one for me was a guy doing Sia's Chandelier and semi-nailing it.

My VHS habit has taken me to some incredible places, allowed me to be a part of so many great film events and festivals, but Video Palace is hands down the most amazing experience I have ever had with my collection. I met so many lovely people and genuinely didn't want it to end, and this feeling was shared by most who visited and chatted, telling us that it needs to be a permanent space. Non-profit, of course. New friends were made aplenty and to have helped build something that genuinely felt like my old video store in terms of atmosphere, well, that can never be topped.
Thanks to Sam aka Videosmithery for the Sphere.
Of course, if there was more time to plan, the tapes for rental would have been organised into genre to give more of a feel of a video store, and maybe some extra touches like a beaded curtain and some adult titles beyond, leading to a private screening booth etc. But with doing it once, it can surely only get better the next time.
My thanks to all at Flatpack, Scalarama and DVD Bang, and everyone else who made the effort to come and visit the store. You guys are in here *points to heart*.

And to the guys and gals of the Bang, we will do this again and we WILL have our Heavenly Bodies dance-a-thon to see which format lasts longest.